ST. MARK'S BASILICA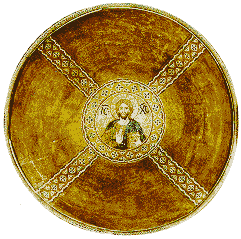 THE INTERIOR
1) THE NARTHEX: formerly no more than a simple porch, the Narthex was given its present shape and size during the XII and perhaps early XIII cent.
2) THE MAIN DOORWAY: the apsidal doorway may be a relic of the earlier church on the site. The staircase on the right leads to the Galleries (where the original St.Mark's Horses are now housed) and to the Balconies overlooking the Square.
3) THE DOME OF THE PENTECOST.
4) THE GREAT WEST ARCH.
5) THE SOUTH TRANSEPT: the part closest to the Palazzo Ducale, to which the church is linked by a door, through which the doge normally entered St.Mark's.
6) THE TREASURY: contains 283 items in gold, silver, glass and other precious materials, the oldest of which were originally booty taken from Constantinople during the IV Crusade (1204). In 1797, at the fall of the Republic, many pieces were destroyed or melted down.
7) THE DOME OF THE ASCENSION: is at the centre of the church over the intersection of nave and transepts.
8) THE CHANCEL: (entrance from the South Transept through the Chapel of St.Clement) is the area separated from the nave by the Rood Screen, which is traditionally reserved for the clergy during services. The doge also had a throne in the Chancel.
9) THE PALA D'ORO: is an altar screen which was placed in its gilded silver frame in the mid-XIV cent. under doge Andrea Dandolo. The precious cloisonnè enamel panels and roundels were probably all made in Byzantium at various times between the X and XII cent.
10) THE NORTH TRANSEPT: The Nicopeia Madonna, a Byzantine ikon which Venetians have always venerated, has been in its present position since the altar was made in 1607. At the end of the transept are the Chapel of St.Isidore and the Chapel of the Mascoli.
11) ST.PETER'S DOOR.
---