ST. MARK'S BASILICA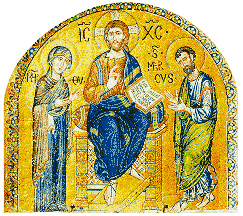 THE EXTERIOR
The main façade, originally finished in unfaced brick, was subsequently decorated with marble and columns brought from Constantinople (Byzantium) when the city was conquered by Venetian forces in 1204, during the IV Crusade.
The mosaics in the arches of the upper order and in the lunettes over four of the doors are all seventeenth century reworkings of XIII cent. mosaics (with the exception of the first on the left, the only original work, and the second, which dates from ca. 1730).
The three splayed arches around the central doorway are decorated with fine carvings. The XIII cent. Venetian sculpture shows both eastern and western influences (the latter from Padua and France) and there is a discernible development of style between the inner and outer arches.
On the balcony above the main doorway stand copies of the four horses (the originals are inside the church) which were brought to Venice from the hippodrome in Constantinople and placed in their present position in the second half of the XIII cent., a potent symbol of Venice's view of itself as the heir of the great imperials capitals: Rome (the Western Empire) and Byzantium (the New Rome, capital of the Eastern Empire).
On the façade facing the water, St.Mark's Basin, there was once an entrance, the Porta da mar, giving access straight from the wharves beside the Palazzo Ducale.
---